Our Pastoral Team:
Mrs Wiggins – Pastoral Manager
Mrs Millard – SENDCO
Our Pastoral Team's key role is to champion the needs of the children who may be facing barriers to effective learning, both inside and outside the school, working with pupils, teachers, parents, carers, families, schools and other agencies, to help construct a flexible and responsive support network.
Our aims include:
identifying particular difficulties and seeking solutions;
setting realistic targets in order to encourage pupils to re-engage in effective learning;
raising achievements;
raising aspirations.
Areas within school that we particularly focus on include:
self esteem and confidence building;
social skills;
study skills;
motivation;
attendance;
punctuality.
Where required, we plan a support programme with each child and go on to develop a one-to-one mentoring relationship aimed at sharing information and helping them to achieve their targets. Personal / social skills and positive attitudes to learning are sometimes further developed by group work.
Undertaking activities to support the development of a healthy school and community environment; some of these activities are:
1:1 mentoring and group work;
ELSA – both Mrs Duffy and Mr Pool are ELSA trained
Team building;
Lego Therapy;
Nurture groups;
Social Speaking
Supporting pupils through transition.
The value of positive and active involvement by parents cannot be overstated. Talk to your child about their targets and general progress and please do contact school if you have any questions. In most cases, the staff in school will identify pupils who need support, but, if you as a parent/carer have concerns, please do not hesitate to contact us.
ELSA – Emotional Literacy Support Assistant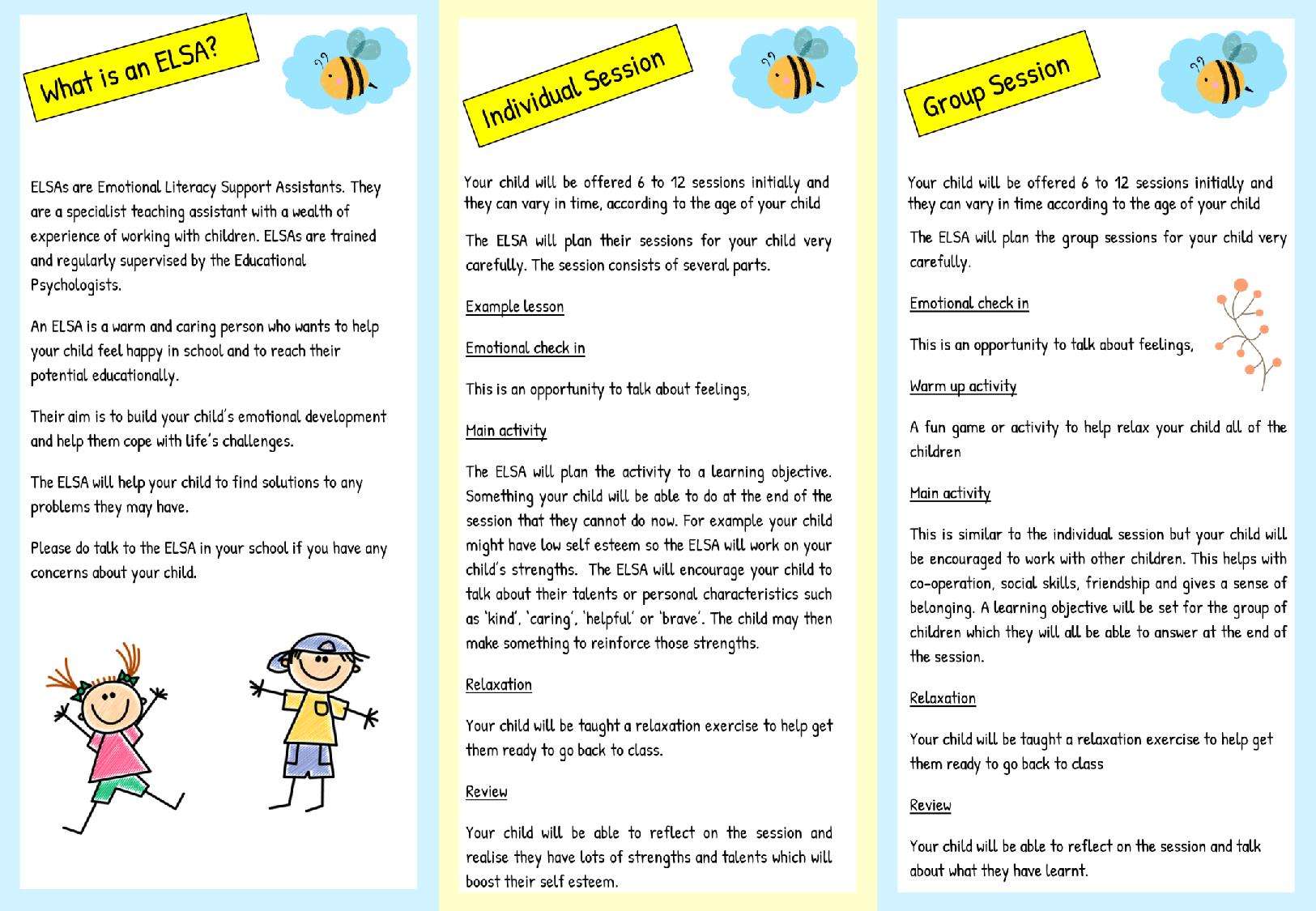 For resources go to: www.elsa-support.co.uk
Support available in Wakefield
Support for children and young people's mental health and emotional wellbeing in Wakefield is delivered through the Future in Mind programme. The Programme has a number of core services operating under it, which help support children and young people in different settings including online, in schools and in the community. At Normanton Junior Academy, we access and use this support for our children, which includes:
Child and adolescent mental health services (CAMHS)
Provided by South West Yorkshire Partnership NHS Foundation Trust (SWYPFT). Wakefield CAMHS provides assessment, services and support to children, young people and their families who are suffering from significant mental health or behavioural challenges. This may include:
depression

self-harm

severe anxiety (including obsessive compulsive disorder)

eating disorders (such as anorexia nervosa or bulimia)
Primary Intervention Team
Community-based support which is offered in local schools and community services and delivered by SWYPFT. Referrals for the Primary Intervention Team are completed through schools.
Face-to-face counselling
A schools-based programme delivered by Kooth and provided within the community too. Referrals for Kooth face-to-face support are completed through schools.
Schools and education offer
Local schools are provided with the opportunity for support during their assemblies, PHSE lessons and staff training. This service is provided by the Primary Intervention Team and is requested by schools.
Peer support
The service is delivered by the Samaritans who work in schools and train young people to offer peer support. Young people will be identified through the school pastoral team to access this service.
Early Help Hubs
Delivered by Wakefield Council, the Hubs offer co-located services and a whole-family approach.
Community Navigators
Provided by the voluntary and community sector, four Community Navigators work across the different areas of Wakefield. Community Navigators are contacted through pastoral support team in schools or contact the Early Help Hubs for more information.
The Community Navigators provide:
Group work to mainstream schools

Develop risk and resilience tools

Deliver the "Luggage for Life programme" which focuses on building skills surrounding emotional health and wellbeing

Transition support for children finishing primary school and entering high school

Connect children, young people and families to activities in their community
If you are worried about a young person, you should contact the Single Point of Access (SPA) on: 01924 316 900.
As you may be aware, KOOTH is live throughout the district of Wakefield supporting all young people 11-19 year old.
Kooth offers personalised, fully anonymous, mental health support with fully qualified counsellors, 365 days a year.
For more information please see the flyer below.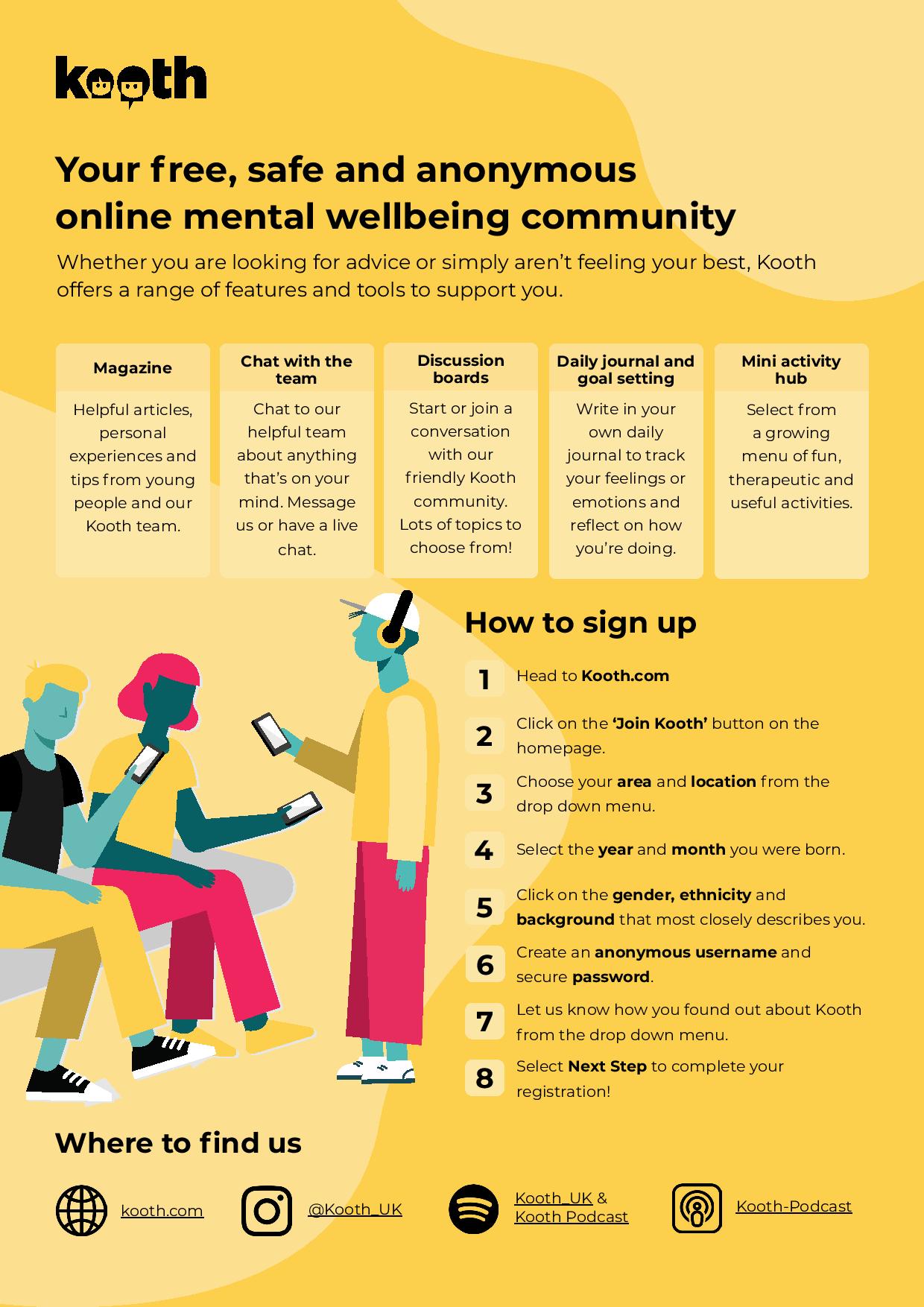 Other Resources and Links:
https://www.wakefield.gov.uk/health-care-and-advice/public-health/mental-health-wellbeing/childrens-mental-health/a-young-persons-guide-to-managing-difficult-feelings 
https://www.wakefield.gov.uk/health-care-and-advice/public-health/mental-health-wellbeing/childrens-mental-health/suicide-prevention
What's on your mind? – Choose Well Guide for Children & Young People from Mid Yorkshire Trust